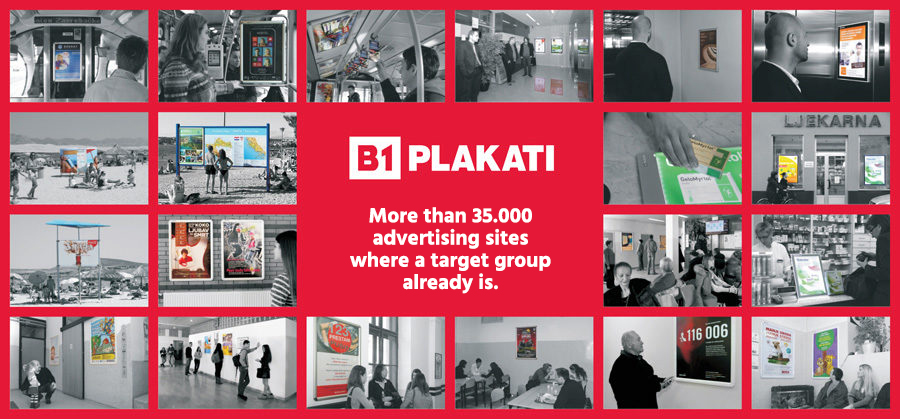 Company B1 PLAKATI was founded in 1998. At the time the advertising market lacked quality and innovative communication channels, while advertisers were in search of new ways to reach buyers. Guided by a clear vision, the founders of the company recognized the needs of the advertising market and discovered ways how to reach different target groups through new communication channels.
Communication channels we have developed from the ground up in locations were they did not previously exist are: healthcare centres, pharmacies, public transport, business towers, educational institutions, veterinary clinics and beaches. In the same year B1 PLAKATI was founded, we successfully developed in Croatia, Bosnia and Herzegovina a pioneering big board project called TOP MEDIA,  which was later on sold to Metropolis Media due to our decision to focus on indoor advertising (see image).
Our company grew alongside our ideas, so we are proud to point out that we employ 48 marketing and sales experts and 86 external associates, bill posters and advertising installers. The size of our advertising space in Croatia and the region exceeds 35000 advertising positions.
Characteristics of B1 media:
• They are located in places where the target groups is already present due to the nature of the location
• They cannot be turned off like radio or TV or put aside like papers and magazines
• They are both content and advertisements at the same time
• They embellish the location and they are not aggressive
• They are functional (media on beaches: beach changing cabins, lifeguard towers, info boards)
• They are educational (healthcare and educational institutions, pharmacies)
• Highly visible and achieve high frequency communication
• They affect the buyers in a special psychological moment (while they are up and about in the morning on their way to work or school, while they are thinking about shopping on their way home, at times when they experience health problems or are relaxing on the beach…)
The underlying cause of our coming of age and the success we achieved in the last 18 years are our clients! Through continuous use of our advertising channels, innovation and implementation of joint knowledge and experience, we achieve desired results and generate successful sales together. We would like to thank all of you who recognised and felt the efficiency of our media! We believe we will continue to successfully cooperate and grow together in years to come!
Kontakt
Na sve Vaše upite odgovorit ćemo vrlo brzo i predložiti način komunikacije sa željenom ciljanom skupinom.